Cases27 August 2021
RSS Safety renovation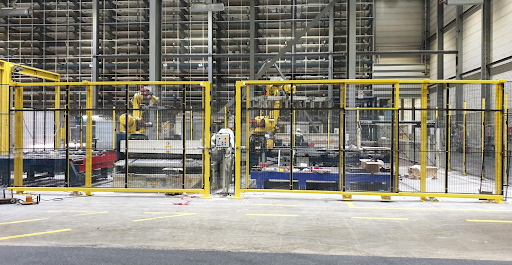 ArcelorMittal Tailored Blanks (AMTB) Bremen Carl-Benz-Straße 30, 28237 Bremen, Germany
2021
A major trend in recent years has been improving safety standards and procedures to minimise the risk of accidents. An unsafe working environment is no longer acceptable in our time. For this reason, AMTB Bremen engaged us to investigate their RSS (Restacking Station) and propose a concept where both functionality and safety meet current standards.
The RSS facility was designed by CPA several years ago to enable the rearrangement of blanks without disrupting other production lines. In this way, a customised finished product can be delivered with the desired quantities or packaging. However, production requirements at AMTB Bremen have increased significantly in recent years, leading to the following problems with the RSS plant:
Manual supply and removal of blanks causes significant production delays.
Using an overhead crane to place and remove stacks is time-consuming and risky.
The plant no longer meets current safety standards.
The proposed solution has two components. First, the integration of roller conveyors will enable the automatic feeding and removal of stacks, reducing risks and increasing production efficiency. Then, after a thorough safety study, the necessary electromechanical modifications are made to significantly increase the safety level.
A completely new fencing will be installed, including a PET-G cover to create a fully enclosed cell. Two automatic gates from Brühl Safety ensure safe and efficient entry and exit of stacks.
In addition, two semi-automatic, self-supporting sliding gates provide quick and flexible access to the zone. The width of 4 metres allows even the largest forklift truck to take materials in or out of the zone.
Besides physical adjustments, the controls have also been revised. The new automatic cooperation with other installations makes correct use of a Siemens Safety PLC indispensable, where CPA can offer a reliable solution thanks to its many years of experience.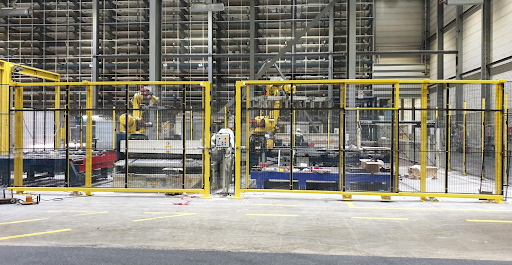 Interested in working together?
Control & Protection Automation has been operating for more than 30 years as a professional system integrator for industrial electrical automation and it projects.